Directions from front range Colorado (Fort Collins, Denver, Castle Rock, Colorado Springs, Trinidad):
Take I-25 south to New Mexico. Six miles south of Las Vegas, New Mexico, exit onto US-84 east. 41 miles later, US-84 merges with I-40 east and continues 19 miles to Santa Rosa. Take exit 273 into Santa Rosa. Roughly, a 6 hour drive from Castle Rock.
The Blue Hole is used as a O.W. training site on weekends by most Diving Stores within a days driving distance. This is especially true during the winter months. The problems we have with the Blue Hole is that it is overcrowded with O.W. classes on weekends during the winter months and they are now charging students for diving ($10/day).
Located in the town of Santa Rosa, New Mexico, about a 7 hour drive south of Denver (about 400 miles), lies a artisan fed quarry called the Blue Hole. Altitude of 4,300 feet. Approximately 60 feet in diameter and 80 feet deep this quarry has over 9 million gallons of fresh artisan water flowing through it every day! Due to this constant exchange of water the visibility is from 50 to 100 feet and the water temperature never changes more than 1 degree year round. The temperature is 61 degrees Fahrenheit which is quite comfortable when diving with a 1/4 inch wet suit. Dean finds it comfortable in a 3-5 mil jump suit. Most divers use a 1/4" with hood and gloves. The Blue Hole is set up exclusively for diving with a platform for giant stride entries, steps for exiting, platforms at 25 feet for skill testing and lots of things to see and explore. There's plenty of room to suit up topside as well as a dive shop for filling tanks, providing emergency items, rest rooms, and picnic tables.
From any Hotel in Santa Rosa you are only 5 minutes from the Blue Hole parking lot. Santa Rosa offers several fast food restaurants, medium priced restaurants, gas stations, and grocery store.
Note: Take note of the following.  There have been some big changes to diving at the Blue Hole.  
To dive in the Blue Hole, each diver is required to purchase a permit for each day of diving.  
Student: A copy of a Drivers license, Divers group the date of arrival, the date of departure, and method of payment.  Fee $8.00.
Annual: Copy of drivers license or picture I.D., a 1X1 inch photo, a divers certification card, and method of payment.  Fee $25.00.
Annual Instructor: 1X1 inch photo, Instructor Certification, Insurance, Drivers license, Method of payjent.  Fee $50.00.
Dive shops: 1X1 inch logo of shop, Instructor Insurance, Drivers license, Method of payment and photos of instructors.  Fee $100.00.
Divers can pay at City Hall at 141 South 5th Street, Mon-Fri. 8am-5pm.  On weekends divers can pay at the dive shop located at the Blue Hole.  For more information, contact Al Lopez at (505) 472-3404 or Alopez@srnm.org
We have very rarely seen this being enforced to date.  But the fines are very steep, see below.
| | |
| --- | --- |
| Violation | Fine |
| No City Diving Permit | $300 |
| Diving Without a certification card | $300 |
| Overnight Camping at Dive Spot | $100 |
| Littering at Dive Spot | $100 |
| Drunk & Disorderly at Dive Site | $300 |
  Click here to see the Albuquerque, New Mexico 4 day Extended Forecast
For more information, call the Santa Rosa Chamber of Commerce at 505-472-3763.
Perch Lake is about a 10 minute drive from the Blue Hole. To get to Perch Lake from the Blue Hole, take Blue Hole Road west into town. At the top of the hill, turn left on Lake Drive. Take Lake Drive to the stop sign at third street. Turn left onto New Mexico 91, you will pass the following landmarks: the town high school on your right: the ruins of old Saint Rose Church on your left; the bridge over El Rito Creek; and the entrance to James Wallace Memorial Park (the Power Dam) on your right. Just past the turnoff to the Power Dam, you will come upon two entrances on your right. The first of these goes to the Rodeo Grounds; the second goes to Perch Lake. To find the sunken airplane, taking a heading of 90 degrees, swim 100 feet from the end of the dock.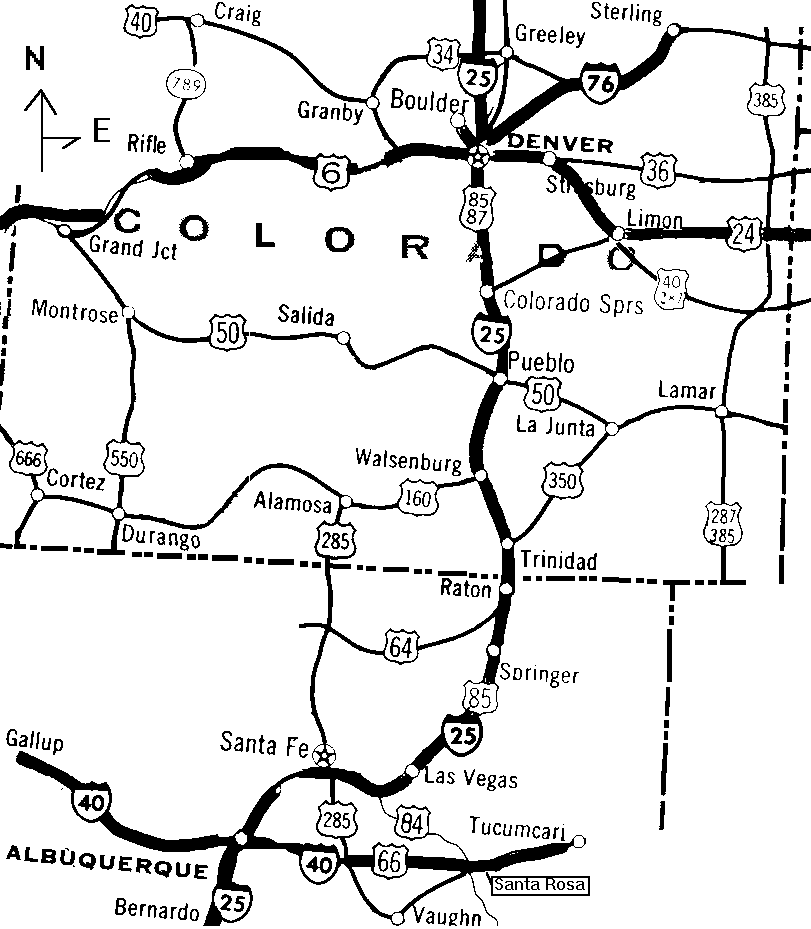 Santa Rosa Dive Center
505-472-3370
(Stella)
Most of the Hotel's in Santa Rosa New Mexico
American Inn
924 Will Rogers Drive
505-472-3481
Days Inn
1830 Will Rogers Drive
505-472-5985
Rancho Motor Lodge
112 Coronado W
505-472-3414
Best Western Adobe Inn
1501 Will Rogers Drive
505-472-3446
Holiday Inn
3300 Will Rogers Drive
Hwy 66 & I-40
505-472-5411
Sun and Sand Motel
1120 Will Rogers Drive
505-472-5268
Best Western
3022 E Will Rogers Drive
505-472-5877
La Loma Lodge
761 Parker Ave
505-472-4379
Sunset Motel
929 Will Rogers Drive
505-472-3762
Budget 10 Motel
120 Hwy 54 W.
505-472-3454 or 3898
La Mesa Motel
2415 Will Rogers Drive
505-472-3021
Super 8 Motel
1201 Will Rogers Drive
505-472-5388
Budget Inn
E I-40 Interchange #277
505- 472-3889
Motel 6
3400 Will Rogers Drive
505-472-3045
Tower Motel
612 Parker Ave
505-472-3463
Comfort Inn
3343 E Will Rogers
505- 472-5570
Ramada Limited
1701 Will Rogers Drive
505-472-4800
Travelodge
1819 Will Rogers
505-472-3494
---